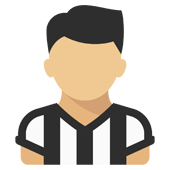 Content count

228

Joined

Last visited
Secondo me, se la Juve non avesse preso Ronaldo, avrebbe pure fatto lo sforzo per Haaland o qualche altro giovane. Purtroppo siamo stati "sfortunati" perché il Covid ha bloccato la crescita economica che ci si aspettava acquistando Ronaldo. Rimane, comunque, l'amaro in bocca per alcune decisioni prese dai dirigenti: dare 8/9 milioni all'anno a Ramsey e lasciarsi sfuggire Camavinga a 30+ bonus. Credo che sia anche per questo che la juve non sarà mai al pari delle altre in CL

Nelle condizioni in cui si trova l'Inter, per 40 milioni non solo si siedono ma te lo portano anche a Torino!

Io l'ho scritto tante altre volte e lo ripeterò all'infinito: tutto il budget lo spenderei su Locatelli e Barella.L'inter ha bisogno di soldi, non credo che si tireranno indietro davanti ad un'offerta di 40 milioni

Targas replied to Manfred von Richthofen's topic in EURO 2020

E su questo forum c'è gente che ancora lo critica. Ha fatto un passaggio assurdo sull'azione del goal e a centrocampo sta facendo quello che vuole!

Targas replied to homer75's topic in EURO 2020

Io farei carte false per prendermi Barella da quelle mer*e... ma come abbiamo fatto a farcelo scappare?

Io, sinceramente, non stravedo per Lukaku. In CL ha dimostrato di non essere forte dal punto di vista caratteriale. E, puntualmente, quando le partite sono importanti lui sparisce. Inoltre prendere Lukaku vuol dire impostare il gioco sulle ripartenze, con Dybala che soffrirebbe questa tattica e, tra i due, preferisco Dybala. Rimangono, comunque, solo delle opinioni; per fortuna il calciomercato della Juve non lo faccio io XD

Con Hakimi che deve essere ancora pagato. Quindi frutterà ben poco questa cessione!

Florentino Perez è un presidente che ai propri allenatori chiede la vittoria della CL come requisito minimo per rimanere ad allenare il Real. Me lo vedo proprio Conte, dopo le figure rimendiate in Europa, ad allenare il Real

Credo che Agnelli abbia allacciato rapporti con Zhang proprio per questo motivo. Se se ne presenta l'occasione, si fa finta di fare un favore a loro e gli strappi un ottimo giocatore. Io stravedo per Barella più che per i vari Hakimi, Lukaku e Lautaro

Rimane, comunque, un trofeo e una partita da vincere. E Pirlo lo ha fatto!

Allenatore alla prima esperienza, su una panchina difficile, senza preparazione, con un sacco di sfortuna per quanto riguarda gli infortuni e con giocatori non funzionali al suo pensiero di gioco. Risultato: 4 posto (non ha senso parlare di fortuna perché ci sta, per il Napoli, pareggiare una partita con il Verona come noi abbiamo pareggiato con squadre sulla carta più deboli), Supercoppa Italiana e Coppa Italia. Vero che siamo usciti con il Porto ma abbiamo vinto a Bercellona con una prestazione molto convincente. In questo forum è stato trattato come un idiota da gente che una panchina non l'ha mai vista (come me, del resto). Abbiamo avuto di peggio come allenatore. In ogni caso, Grazie mille Andrea e, da oggi, Forza Max!

Chiedo scusa, non credevo che fosse proibito avere un'idea diversa dalla tua.

Una stupidaggine mandarlo via. Ce ne pentiremo come abbiamo fatto con Ancelotti!