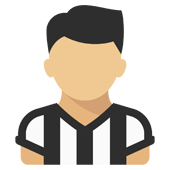 Content count

47

Joined

Last visited
Community Reputation
182
Buona
About Addostaplatini

Ciclo di Allegri finito a Cardiff, ciclo di Sarri mai iniziato

Intanto MC bannato per due anni dalla CL. Che siano vere le voci su Guardiola?

Chissà come se la ride,piuttosto

Ormai questo è un luogo comune ripetuto da tutti e dato per scontato. Ma non è che forse a fine ciclo erano i giocatori? E la dirigenza? A me sembra più a fine ciclo Paratici di quanto non lo fosse Allegri.

Addostaplatini replied to homer75's topic in Amarcord

Ma non dovevamo metterlo a centrocampo?

Addostaplatini replied to homer75's topic in Amarcord

Continuiamo ad attendere "la vera Juve di Sarri"

Infatti, il problema è che non ci sono i soldi.

Un po' tanto per un 19enne, ma è un attaccante. Abbiamo speso quasi il doppio per un 19enne difensore.....

Sarà che sto invecchiando, ma il discorso che fa nella seconda risposta è per me difficile da digerire.

Uno dei pochi giocatori realmente di caratura internazionale che abbiamo avuto in questi ultimi anni. Era giusto probabilmente che la sua strada si separasse da quella della Juve, ma le modalità con le quali ciò è avvenuto non fanno che aumentare le mie perplessità sulla gestione in solitaria del mercato da parte di Paratici.

Eppure in tanti davano la colpa ad Allegri e al suo staff

Forse allora il problema sono i giocatori (escludendo l'aria di Torino come causa)

Aggiustare qualche pedina? In pratica hai scritto che servono quattro titolari nuovi. Negli ultimi tre anni il nostro ineffabile DS è stato capace di prendere un solo giocatore titolare, peraltro mandando in vacca i conti della Società. Come puoi pensare che a giugno sia in grado di fare tutte le operazioni che indichi?