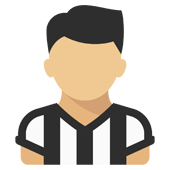 Content count

626

Joined

Last visited
Community Reputation
238
Buona
About stefano62

Rank

Primavera


Birthday

11/28/1962
Informazioni
Squadra
Sesso
Provenienza
Interessi
Concordo Totalmente ma se lo fai scegliere un altra volta al duo delle meraviglie ....... mi sembra che non siano veramente liberi di mente per farlo...... in particolare Nedved che e' stato schiaffato fuori dallo spogliatoio e se l'e legata la dito......... facendo danni economici rilevanti

quotone e aggiungo anche nell'atteggiamenti da si e no 1/2 categoria

vg vedere chi ti rida anche la meta dei soldi per quests specie di giocatore supoer inutile.....mi fa ridere chi critica bentancur....... che non sara un fenomeno ma almeno qualcosa fa

Io la ragiono uguale a te , se vai a vedere le pagelle tanti devono aver visto san remo.... ah ah

sono i denigratori per punto preso... berna oggi veramente bene in tutte e due le fasi ha sbagliato due palloni in tutta la partita ma qui ce il tiro al bersaglio e poi montano tutti sul carro vedi chiesa!!!!

Io sarei per una semplice (per dire ) soluzione...... fuori i piu nincapaci Paratici e Nedved che ci hanno portato in due anni in questa situazione volutamente, inoltre con i paraocchi perche dire ad allegri questa rosa non e miglkiorabile o si e' in malafede o veramente il calcio e altra cosa.... ed andare ad affidare la squadra al benzinaio e poi al novello...... e richiamare Allegri con un progetto piu ampio chiaramente con un nuovo DS per quanto riguarda Nedved mi cucio la bocca

Maghari si levasse da recepire soldi non dovuti .re dei selfie degli sputi e titolare indiscusso del J medical centre ........

Dillo a quel Cieco che e' stato quello che lo ha voluto cacciare a tutti i costi...... Lurido personaggio che non serve a niente

stefano62 replied to homer75's topic in Amarcord

Szczesny sv Cuadrado 5 De Ligt 5.5 Chiellini 5 Danilo 6.5 Chiesa 6.5 Bentancur 6 Rabiot 6.5 Bernardeschi6 Morata 5.5 Ronaldo 5.5 Alex Sandro 6.5 McKennie 5.5 Kulusevski 5.5 All Pirlo 5

Apprezzo la tua onesta'..... io non l'ho mai sopportato perche il suo modo di fare sono tutto io e non sgbaglio mai e tipico di quella faccia a *..... Ti faccio presente che pur avendo avuto dei meriti di riportrci anche a vincere... ha sempre fatto piagnistei... volle comprare Giovinco a tutti i costi.... Ogbhonna o come si scrive ..... Gli vendettero Giaccherini sembrava che gli avessero levato mezza squadra e te ne potrei rammentare altri .... lui e' un lurido e basta e signore non lo diventera' mai ... fuori la stella

Tutte le vedove della merdaccia sono gia salite sul carro vero????? Il piu lurido personaggio che ci sia in giro !!!!!!

Io se ne devo scegliere uno scelgo senz'altro il senzapalle.... che al momento attuale diventa il quarto .......... mentre iol Ronaldo di ora pur non essendo presentabile e sempre un arma in piu del numero 10

Che poi non era la quarta ma terza punta!!!! Il senzapalle non e una punta

Penso onestamente che tu sia fortunato te a scrivere cose ..... cosi

stefano62 replied to homer75's topic in Amarcord

Concordo totalment ma per una soluzione cosi c'e da mnadare via piu lontano possibile Il duo Paratici Nedved, quest'ultimo in primis colui che ha fatto di tutto perche voleva comandare .... ve lo ripeto da fonti sicure e' entarto nello spogliatoi ai tempi di allegri dicendo la sua ... e Max da buon Livornese lo ha preso per il bavero e gli ha detto fin che ci sono io te nello spgiatoio non ci entri con questa altura...... L........ personaggio il CIECO .......