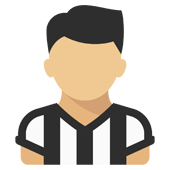 Content count

96

Joined

Last visited
Si infatti il forum è sempre meno interessante. Si trova poca gente che parla di calcio mentre una miriade di commenti facebook style (senza senso e di frustrazione). proprio uno schifo

ti assicuro che troveresti qualcuno che avrebbe da ridire

Qui sareste contrari anche se si presentassero con Haaland perché qualcuno direbbe "per una stagione fatta bene non puoi pagare così tanto"

Paolo90 replied to homer75's topic in Amarcord

Beh se il primo tempo finiva 3 o 4 a 0 non c'era nulla da dire. Le occasioni le abbiamo create e sono state pure nitide. Quindi la volontà di chiudere la partita già nel primo tempo c'è stata.

Se prima, quando vedevo uno scuro con i capelli ricci, ero sicuro fosse Cuadrado ora mi devo impegnare per capire che Cuadrado non ricopre sia la fascia che il centro del campo.

Paolo90 replied to giusardegna's topic in Amarcord

Si penso proprio di si... con i tornanti che salgono di più e i 2 mediani che salgono in linea sempre in copertura. Però chi viene panchinato tra i 4 potenziali titolari?

Paolo90 replied to giusardegna's topic in Amarcord

Comunque fino ad ora il modulo mi è sembrato il 3-2-3-2 con Rabiot e Mckennie un po' più arretrati di Ramsey

Nessuno ha notato il passaggio sul centrocampo a 2? ha aperto anche a questa ipotesi parlando di Arthur

il milan in alcune partite si presentava con questi 3 sulla palla a tirare una punizione.... ma il mancino di DYBALA loro non ce l'avevano .dahl

http://video.sky.it/sport/calciomercato/higuain_felice_di_essere_qui_alla_juventus/v294550.vid?utm_source=dlvr.it&utm_medium=twitter

Mi dispiace per te che ormai ti sei costruito un personaggio e non puoi più esprimere le tue idee, capisco che è difficile ma fai parlare di te continuando con questa interpretazione

Io sono dell'idea che il palo è un tiro sbagliato.... I due pali distano tra di loro 7,32 metri e sono alti 2,44 metri.... stanno fermi (quindi non si può parlare di sfortuna)....e con un tiro vai a prendere il palo che sara 15cm, ma cmq esterno alla porta.... che vuoi di più? è un tiro sbaglia come quello che va a finire in fallo laterale...