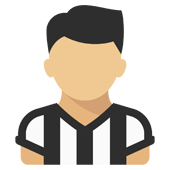 Content count

2,754

Joined

Last visited
Community Reputation
2,467
Guru
About Ciccio Grabbi

Recent Profile Visitors
A me piace. Buon feeling col gol, forte di testa e ottimo su punizione.

Ma chi è Ronaldo il Fenomeno?

Io questi appelli alla non assegnazione del titolo non li comprendo. C'è una squadra prima in classifica dopo le 26 giornate disputate, e le restanti (in via del tutto ipotetica) non c'è modo e tempo di recuperarle? Classifica cristallizzata sia per retrocessioni e accessi in Europa, sia per l'assegnazione dello scudetto. Poi ognuno decida che peso dare, nel suo intimo, a questo esito. Intanto lo assegni così, nella maniera più lineare.

Infatti ad ogni modo prima è la Juventus, non la Lazio.

Ciccio Grabbi replied to Jjilmioelettrocardiogramma's topic in Juventus forum

Ti dona tantissimo, Paul... 😍

Concordo. Siamo primi dopo 26 giornate, non dopo 6 o 7.

Ma a prescindere da questo, delle due l'una: o si è nelle condizioni di riprendere in tempo utile per la disputa delle partite restanti, o si assegna alla prima in classifica al momento del "congelamento" della stagione. Non vedo alternative più eque di queste.

La Lazio è seconda, noi primi. Perchè dovremmo giocarci contro una partita che valga il titolo? Una "finale" improvvisata (piuttosto che un doppio turno semifinali-finali) compenserebbe la mancata disputa di 12 giornate di campionato?

C'è chi lo vinse da terza in classifica...

Io farei che chi è primo in classifica lo vince. Come accadde in NBA anni fa in occasione dello sciopero dei giocatori. Stagione ridotta e titolo, se non ricordo male, ai San Antonio Spurs.

Io con i soldi sarei ricco.

Su tutti stasera Bonucci, Bentancur, Cuadrado e Dybala. Grazie ragazzi.

Ciccio Grabbi replied to homer75's topic in Amarcord

Ringrazio ogni mattina Dio e dirigenza per avercelo regalato. Altrochè...

Per me era netto quello su Ronaldo. Va a colpire a un metro dalla porta, viene sbilanciato da dietro. Scorrettezza decisiva.