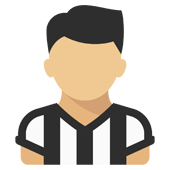 Content count

1,260

Joined

Last visited
Community Reputation
434
Buona
About the killing hand

Rank

Titolare


Birthday

07/14/1972
Informazioni
Squadra
Sesso
Provenienza
the killing hand replied to The Italian Giants's topic in Juventus forum

Gioca a calcio o frequenta un corso professionale per operai edili?

Se fosse stato un accordo ci sarebbe stata rescissione con una buonuscita. Si tratta di esonero, ed Allegri ha preferito rimanere a busta paga invece di rimettersi in gioco.

Krol sarebbe stato contestato....perché non era un marcatore puro, non si aggrappava agli attaccanti, non faceva le scivolate.....fa niente se era ambidestro, sapeva impostare egregiamente, era fortissimo nell'anticipo.

In effetti Exxor viaggia su cifre astronomiche....il che mi fa dire che ,se anche buttasse 4 spicci, neanche tutti gli anni, nella Juve, non penso succederebbero grossi sconquassi....

Naturalmente difensore impunito.......

Platini trequartista? Bah ok.....vuoi aver ragione a tutti costi, ho capito. PS, il giocatore fondamentale dei primi 2 anni è stato Vidal.

Allora ne hai visti pochi. A parte che manco Maradona trasformerebbe una squadra da 7 posto in una da scudetto, figuriamoci Pirlo. Negare i meriti di Conte nella costruzione di quella squadra è abbastanza puerile. Che poi Pirlo abbia fatto grandi cose ok, ma dire che è stata la pietra angolare...il miglior centrocampista?? Ma hai mai visto 2/3 partite di Platini?

Io non la compro, la leggo al bar quando mi capita, non ci vedo niente di male, è il quptidiano più completo di informazione sportiva.....ci sono anche gli altri sport eh, mica esiste solo il calcio. Salto il calcio e leggo il resto.

the killing hand replied to homer75's topic in Amarcord

Quindi, il Milan di Allegri contro di noi era pieno di relitti umani, che l'anno prima, evidentemente facevano le ablazioni nella vasca di Lourdes, visto che hanno vinto il campionato, giusto?

the killing hand replied to homer75's topic in Amarcord

Anche Rabiot e Ramsey sono stati fatti andare via...un motivo ci sarà no? O vale solo per Can il ragionamento?

Con Del Neri Barzagli sembrava un Romagnoli qualunque. La fortuna delle difese dipende dal centrocampo, e con Vidal Marchisio Pogba e Pirlo, era più facile anche per la difesa. Che poi Barzagli fosse fortissimo, non ci piove.

the killing hand replied to homer75's topic in Amarcord

A tutti gli allenatori da almeno 30 anni la dirigenza smonta la squadra....mica solo al povero Allegri.

Anche io seguo il football dai tempi dei Niners di Montana e Rice, ma sono tifoso da sempre di Green Bay....la prima partita che vidi da ragazzo era una partita dei Packers, e da allora sono fan dell'unica squadra rimasta di proprietà popolare. Quest'anno abbiamo sistemato la difesa, e questo mi fa ben sperare almeno per i play off.

the killing hand replied to homer75's topic in Amarcord

the killing hand replied to homer75's topic in Amarcord

Aspetterò che un professionista come te me lo spieghi....mi spiace che tu goda solo per le vittorie, dato che di calcio non ti interessa nulla. Immagino che all'epoca di Del Neri Ferrara Ranieri ecc, tifavi le squadre che vincevano in quel momento.