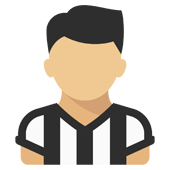 Content count

8,736

Joined

Last visited

Days Won

2
Community Reputation
2,499
Guru
About dany-aq

Rank

Capitano


Birthday

04/22/1973
Ah ok, io avevo sentito triennale. Forse avevo capito male io

Ma, per capire, tutti i guru che avevano gurato Suarez, hanno avuto conferma che è Dzeko e, quindi, corretto il tiro, oppure hanno ancora notizia che sia Suarez?

Se fa un biennale già è più ragionevole.

dany-aq replied to Anima-BiancoNera-'s topic in Cestino

dany-aq replied to Nate Fisher's topic in Cestino

Comunque leggo che era meglio Suarez che ha 33 anni contro i 35 suonati di Dzeko. Allora sfatiamo sta cosa: Dzeko é nato il 17.3.86 Suarez è nato il 24.1.87 10 mesi di differenza.

Non contesto il giocatore, ma l'operazione economica, specchio dell'inadeguatezza tecnica di Paratici che, come l'anno scorso si ritrovò all'ultimo senza allenatore e fu costretto a prendere quel mediocre di Sarri pagandolo ben 14 milioni lordi per 3 anni (cosa assurda se si pensa che al Chelsea prendeva la metà), oggi si ritrova senza punta e si fa tirare per il collo dalla Roma e dallo stesso Dzeko, riuscendo a mettere su una operazione folle, spendendo ben 22 milioni/anno per un 35enne. A tutto ciò si aggiunga la minusvalenza di Higuain (18 milioni), lo stipendio pagato ad Allegri (14 milioni) e quello che stiamo pagando a Sarri (14 milioni lordi x altri due anni). Un genio che soltanto per queste mediocri scelte è costato e sta costando alla società 46 milioni tra svalutazioni e ingaggi di allenatori esonerati, oltre ai 22 milioni per un giocatore 35enne. Per me è un dilettante allo sbaraglio.

Gioivano per l'associazione "esame a Perugia = passaporto italiano = Juventus". Poi però tutta la stampa si è allineata e dice che è praticamente fatta per Dzeko. Un guru, rimasto anonimo, dice che ha avuto conferma che sarà Suarez al 100%, ma è una Mosca bianca rispetto al resto del mondo. Gli aerei sono stati tracciati, ma aldilà di una inspiegabile casualità che ha visto Suarez sostenere l'esame a Perugia, non sembrano esserci speranze che sia lui il nostro numero 9 (a meno che non si voglia credere al guru anonimo, cosa che ognuno di noi, in cuor suo, fa).

Vabbè, potrebbe giocare Kulusevski

C510 non mi trova nulla... Che devo mettere in "cerca"?

Forse un po' di cultura su quelle che si dicono siano certe lobby di potere e chi siano i soggetti coinvolti, dovresti fartela tu.

Per me la fonte Anonima è Romeo che sa, ma non può dire 🙊

Fino a ieri non c'erano i tempi tecnici: poi Oceano telefonò a Napolitano....!

Quale momento? Preferisco razionalizzare che illudermi.