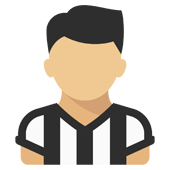 Content count

1,428

Joined

Last visited
Everything posted by as1976
mi piacerebbe davvero sapere tutti questi grandi estimatori di fagioli quante volte lo hanno visto giocare e in che contesti per giudicarlo in grado di fare il titolare in serie A e in Champions

Topic da "sindrome del pisello piccolo", tipico del tifoso juventino quando comincia la fase ad eliminazione della Champions. Che il Bayern sia una grande squadra non c'è dubbio. Ma ogni partita fa storia a se. E se passiamo il turno avremo esattamente le stesse possibilità delle altre partecipanti ai quarti di finale.

E' incredibile come questa manica di mentecatti ogni anno regolarmente riescano nell'impresa di darci le motivazioni per prenderli ancora una volta, tutti, a calci nel *.

Trap. Lippi. Max. non necessariamente in quest'ordine.

Bentornato Alvaro. faremo grandi cose.

Impossibile dirlo. Sono tuttora convinto che ci fossero però modi più proficui per investire la mostruosa somma di denaro destinata a CR7.

Decisione comprensibile. C'entra ieri, solo nel senso che ieri è finita la stagione. Ma sarebbe stato esonerato anche se avesse vinto la CL.

Da 10 anni e' titolare come centrale di difesa sia nel club che in nazionale. Con tutti gli allenatori che ha avuto. però' sul forum abbiamo deciso che è una pippa come difensore ed un pallone d'oro come centrocampista. ok

as1976 replied to homer75's topic in Amarcord

Tipico Derby, chi critica deve spegnere la PlayStation . cuadrado attualmente e' un giocatore mostruoso.

as1976 replied to homer75's topic in Amarcord

Squadra molto molto forte ma con un potenziale offensivo inadeguato.

as1976 replied to homer75's topic in Amarcord

Vedere la curva così è' davvero una pena. Andare allo stadio ha perso il 50% del suo fascino, e sinceramente non vedo come un bambino possa appassionarsi oggi giorno.

da cedere prima possibile

Chiellini dal primo momento in cui e' Stato schierato difensore centrale ha dimostrato una presenza ed un'attitudine al ruolo che in de ligt non ho mai visto.

Rendimento ampiamente insufficiente ad oggi, non capisco che cosa costi ammetterlo. e' giovanissimo , migliorerà senz'altro. pero' se Bisogna giudicare de ligt OGGI, e' un difensore che non merita la maglia da titolare della Juventus. oggi.

E' un giocatore forte in prospettiva. la follia e' che guadagni già come un top mondiale .

as1976 replied to homer75's topic in Amarcord

E niente. neanche una vittoria come quella di ieri riusciamo a goderci. gne gne gne sarri gne gne gne allegri ogni volta la prova che 14 milioni sono troppi

L'esordio a Napoli in serie B Il gol all'Inter all'Olimpico Il colpo di tacco a Berlino grazie Claudio

Con acciuga e croato avevi vinto il campionato ad ottobre , dimostrando una superiorità imbarazzante. qui la sfanghiamo a fatica contro le neopromosse. vediamo.

Dybala contrariamente alla vulgata comune deve giocare tra le linee, e scendere a prendere palla. In quella zona di campo può creare il break e risultare decisivo nello sviluppo. lui, ramsey e pjanic possono creare un triangolo in grado di eludere il pressing avversario

Evidentemente devi sfogare il rancore verso un allenatore che ti ha zittito 5 anni su 5 su uno dei calciatori che hanno identificato maggiormente la sua gestione (ma non si diceva lo stesso anche di khedira e Matuidi ?). perche' Mandzukic e' superiore a questo Higuain anche con la febbre a 39 e una gamba sola

Penso che Mandzukic davanti sarebbe di gran lunga l'alternativa migliore tra quelle presenti in rosa.

Io di questa squadra continuo a pensare che sia mostruosa nel reparto più criticato (centrocampo). ma che abbia lacune terribili sugli esterni e davanti. Ovviamente il tutto in relazione al livello al quale si aspira.