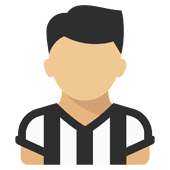 Content count

3,382

Joined

Last visited

Days Won

1
Community Reputation
1,707
Guru
About ElMachico

Si complimenteranno per il biennale da 6 milioni a Perisic.

Ma non diciamo scemenze. Ha retto da solo la difesa tutto l'anno.. Poi se pensate che un difensore di 23 anni, non possa commettere 3/4 errori gravi in 50 partite, siete fuori dal mondo.

ElMachico replied to Montero non fa prigionieri's topic in Juventus forum

Ahahhaha Cioe, paredes va in scadenza tra un anno e vale 40 milioni? Lo davano all inter quasi gratis 1 mese fa.. Ma è una barzelletta spero.

giocatore oggettivamente in declino, non so, forse nel giusto ambiente potrebbe riprendersi... Con un ingaggio non superiore ai 7-8 milioni ok, altrimenti non vale la pena.

A questo punto, direi che ha più senso mettere ake e Miretti per i playoff, no? Bene o male i due giocatori in prima squadra li hai già visti, non è che se gli fai fare qualche minuto in campionato hai chissà quale indicazione in più.

Non è così... Sono state riportate statistiche ufficiali dove si vedeva che la media infortuni muscolari con allegri è superiore rispetto all anno scorso e ancora di più in confronto alla Juve di Sarri . Con allegri e folletti sei in emergenza perenne, 364 giorni.

ma non erano 30? quando compriamo alla fine la cifra è sempre piu alta... quando si vende viceversa te credo che fai debiti

70 milioni Ahahhahahah Io mi tengo mckennie, che ha 4 anni in meno... Potenzialmente l americano può ancora migliorare molto. Savic è bravo ma non vale assolutamente 70 milioni, nessun club al mondo darebbe a Lotito quella cifra, forse gli unici scemi siamo noi.

ElMachico replied to giusardegna's topic in Amarcord

Giocheremo in finale contro i prescritti con la primavera... Grazie Allegri, grazie Folletti.

ElMachico replied to giusardegna's topic in Amarcord

Pure De ligt out... Folletti quando verrà cacciato ? Ma non si vergognano?

2

i nostri infortuni sono sempre misteriosi e si dilungano all'infinito...

Anche io vedendo la partita sono scappato al gabinetto ..

Si certo... Da noi diventano tutti scarsi, credeteci che raspadori e frattesi farebbero bene... Basata guardare kulu, da quando è a Londra è un altro giocatore, da noi sembrava un giocatore di serie b.

Ma ritiratevi che messi insieme fate gli anni di mia nonna. Patetici.