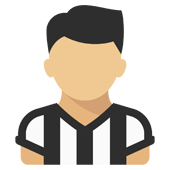 Content count

668

Joined

Last visited
Community Reputation
1,239
Eccellente
About Nini90

Rank

Primavera


Birthday

08/26/1990
Informazioni
Squadra
Sesso
Provenienza
Recent Profile Visitors
Nononono avete inteso male, è da ieri sera che rivedo quella scena. Il polacco stringe dalla maglietta rabiot e lo porta verso l'area piccola (probabilmente perché si sente insicuro e ne vuole due dentro), Rabiot si era piazzato nel punto esatto in cui poi il pallone è andato a finire. Infatti rabiot lo sfancula due volte, quando viene spostato e quando subiamo gol. Poi ok locatelli si perde l'uomo, ma qui colpe il francese non ne ha, anzi!

Dirigente folle e ambizioso = Adriano Galliani?

Nini90 replied to homer75's topic in Amarcord

Metto i miei 2 euro su Buffon al Monza.

No Bonucci è spostato a sx, rabiot di spalle. Dybala o arbitro.

Secondo me Buffon (e de ligt) parlavano con dybala.

Come è bello non capire nulla del ruolo in generale ed esprimere comunque la propria opinione. Con lui in porta eri ancora dentro la CL attuale e avevi quei punti in più che ti avrebbero garantito la CL del prossimo anno. Grazie.

Nini90 replied to homer75's topic in Amarcord

Paratici voto 10, primi soldi investiti bene quest'anno, comprarsi questa partita era fondamentale. Ps: prendiamo Rodrigo De Paul, fuoriclasse.

Che bello vedervi ricordare anche il cambio sbagliato da Allegri in Juventus ciliverghe nel trofeo paperopoli mentre nessuno cita il fatto che senza interruzione covid la Juventus di Sarri avrebbe vinto una beata cippa, con la Lazio che con una partita a settimana andava a velocità doppia.

Ieri guardavo lo sporting, hanno buttato dentro un 2005. Qui far giocare un 15enne in serie D è un'idea terrificante.

Vedo che nella mediocrità della rosa in cui un de paul potrebbe sembrare Maradona, il tifoso juventino amante dei falegnami di serie d tutta corsa e zero piedi spara contro Cristiano Ronaldo. Quanto è bello non capire un *.

La differenza in positivo rispetto a bentancur è allucinante, non perde mai un pallone in uscita e viaggia molto più veloce. Non azzarda mai un passaggio in avanti, ma nel cc di questa Juventus è il meno criticabile insieme a rabiot.

Ma l'ho fatto pure io, però a 5 se passa la barriera non puoi reagire perché non hai lo spazio/tempo necessario causa distanza ravvicinata fra palla e barriera e barriera e porta, non considerando anche che la palla mediamente viaggia a velocità più alta e il pallone è più "pesante". Qui il polacco prende un gol su scamorza da 40 metri non angolata, contatto visivo perenne sul pallone grazie al fatto che in barriera c'erano solo 3 uomini, impatta la palla a mano aperta nonostante non abbia proprio spinto (arriva sulla palla con piede sx ancora a terra e ginocchio dx piantato a terra). È una topica clamorosa, da calciatore che aveva proprio staccato la spina. E ti dirò di più, primo gol in portogallo 50% colpa sua e sul secondo viene perforato da una busta di piscio calciata sul suo palo. In questo doppio confronto è stato IMBARAZZANTE.

Nini90 replied to homer75's topic in Amarcord

Il Napoli di Sarri di quell'anno stupra l'Inter di conte 3-0 all'andata e 3-0 al ritorno.

Nini90 replied to homer75's topic in Amarcord

Fate tornare allegri. Chiedetegli scusa e date carta bianca sul mercato. Pazzi malati di mente ad aver ascoltato adani e Co.