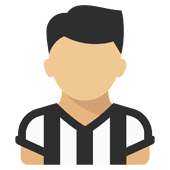 Content count

857

Joined

Last visited
Community Reputation
661
Eccellente
About l'imperatore

Recent Profile Visitors
l'imperatore replied to Lev's topic in Cestino

Non avete ancora visto di nulla di Soule, Miretti ed Iling, aspettate due/tre anni e diventeranno tre giocatori di livello mondiale, Soule dal punto di vista tecnico è gia adesso il miglior giocatore della Serie A, ha messo il compagno davanti al portiere con un pallone filtrante a giro che nel mondo sanno fare solo Messi e Di Maria

Buffon D. Alves Barzagli Scirea Cabrini Pogba Pirlo Zidane Platini C. Ronaldo Henry

Il problema è la competenza, i soldi sono stati spesi e pure tanti.

Tomori al Milan è costato 27 mln, giocatori forti a prezzi onesti si trovano.

Piu che altro non mi fido dei dirigenti, gli unici grandi acquisti che abbiamo fatto sono stati Cancelo e Chiesa, che ci sono costati comunque 100 mln, quisti hanno spesso 100 mln per giocatori come Mckennie, Kean e Locatelli, capirai...massa di incompetenti

È un forum si discute, altrimenti non leggere

8 piu bonus che possono arrivare a 12, secondo me non li vale.

Basta giocatori di Raiola, gran giocatore, ma non vale i soldi spesi per il cartelino e non vale neanche i 10mln netti che prende d'ingaggio.

Bravo De Winter! Credo che l'ultimo teenager ad essere titolare per la Juventus in una partita di Champions sia stato Pogba contro lo Shaktar Donetsk ai tempi di Antonio Conte. Spero sia da esempio per altri giovani Bianconeri che aspirano ad essere giocatori da prima squadra.

Ma poi se non ti accorgi che Sandro e Bentancur in questo momento sono dannosi signica che non hai le competene per allenare la Juventus, ma poi questi non sanno che fare con il pallone, sembrano i ragazzini in cortile, ma anche con il Chelsea, non sanno gestire il pallone con criterio, sembra gli dia fastidio toccare il pallone, boh siamo gli unici che non si divertono a giocare a pallone, i difensori si passano il pallone tra di loro e poi o la ridanno indietro al portiere anche quando ci sarebbe il compagno libero o la lanciano in avanti per il nulla cosmico. Bastava vedere il video delgi llenamenti pre-Chelsea, credo che siamo gli unici che si riscaldano con il mega torello da 30 giocatori, tutti gli altri fanno mini-torello da massimo 8/10 giocatori.

Ma poi insiste con Rabiot esterno, a questo punto fa giocare De Winter e fa salire Cuadrado, con lui e Chiesa sugli esterni, lui cerca solo di fare difesa e contropiede a 60 metri dalla porta, la squadra non riesce a fare pressing come si deve, du blocchi da 4 e poi si vede

A furia di difendere questi si sono dimenticati come si attacca, praticamente i nostri attaccanti si devono sparare 60 metri per arrivare davanti al portieri e poi alla fine della partita li devi raccogliere con il cucchiaino.

Ma sempre con queste frasi fatte, ma basta, giocate a calcio e vediamo, sempre con questi discorsi sulle battaglie neanche fosse una guerra, che mentalita di *, giocate a calcio, ma baste con sti discorsi sulla grinta.

l'imperatore replied to homer75's topic in Amarcord

Purtroppo abbiamo una rosa con troppi giocatori macchinosi, chi per problemi di eta chi per caratteristiche atletiche come Bonucci, Chiellini, De ligt, Danilo, Sandro, Locatelli, Ramsey, Dybala e giocatori limitati tecnicamente come Bentancur, Bernardeschi, Mckennie, Rabiot, Kulusevski,, abbiamo una rosa da quarto, quinto posto, difficile fare meglio.

l'imperatore replied to homer75's topic in Amarcord

Effettivamente attacca il lato debbole meglio di Sandro e Danilo, secondo me Sandro ad alti livelli ormai puo solo giocare centrale in una difesa a tre o due.