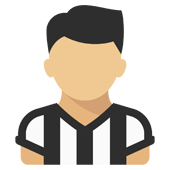 Content count

120

Joined

Last visited
Community Reputation
27
Neutrale
About Blaine

Blaine replied to homer75's topic in Amarcord

https://www.tuttojuve.com/altre-notizie/sportitalia-incredibile-padovan-vittoria-juve-e-un-eccezione-allegri-fa-1-gara-giusta-su-40-l-atletico-si-e-suicidato-se-fossi-tifoso-bianconero-sarei-462296

Blaine replied to homer75's topic in Amarcord

Continuo ad odiare Allegri. Il merito è solo dei giocatori che ci hanno messo cazzimma.

Blaine replied to homer75's topic in Amarcord

Oggi ho capito che la Juve del * uscirà senza storia contro gli spagnoli.

che è ancora sulla nostra panchina

Ho spento la tv a fine primo tempo vista la solita * di partita che la Juve faceva. Vergogna. Basta scudetti facili. Siamo una squadretta in Europa. Allegri vattene via.

È tutto finito. Stagione finita sin da ora. Anche lo scudetto è a forte rischio a mio avviso. Difesa vecchia squadra vecchia anche in attacco e con riserve scarsone soprattutto in difesa. Gioco di *. Sarri subito. Vergogna tutti.

Io lho detto in tempi non sospetti ai tifosi occhio prosciuttati.

È finita. Così la dirigenza impara a non stare impalata mentre la barca affonda.

Sono più juventino di te 100 volte di più

Eccoci qui fuori dalla coppa it., senza difensori centrali titolari, con le riserve scarsone, addio triplete, a limitare i danni in campionato ed a forte probabilità di uscita dalla Champions. Vergogna Allegri che dice che De Sciglio ha fatto una buona partita, vergogna società immobile sul mercato!!! La stagione si sta mettendo malissimo. Ora cosa dicono i tifosi occhi prosciuttati che erano tranquilli anche dopo che Bonucci si era rotto ma che pensavano ingenuamente che Chiellini durasse per sempre? Cambiare staff tecnico e medico è sempre troppo tardi. Vergogna Vergogna Vergogna!!!

Blaine replied to homer75's topic in Amarcord

Ennesima partita della Juve di Allegri da vomitare. Dimettiti.