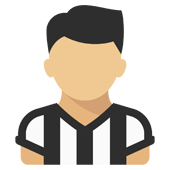 Content count

1,330

Joined

Last visited
Community Reputation
405
Buona
About Argo30

Rank

Titolare


Birthday

11/06/1966
vabbe dai, oggi la formazione era abbastanza fantasiosa, abbiamo chiesto turn over per sei mesi, me per primo, poi quando lo fà non è che dobbiamo lamentarci se perdiamo una partita che, ad oggi, è del tutto ininfluente, anzi, come ho scritto prima, farà più bene che male.

io a queste storie non ci credo, non ci ho creduto nella partita di Bologna e non ci credo nemmeno oggi.

non lo so, può essere, però anche da li si vede se un giocatore ha le palle oppure no. Diciamo che, essendo per noi poco più di un "amichevole", si poteva rischiare. Comuqne, è una sconfitta che alla fine non cambia nulla ma che serve per tenere le antenne dritte, tra l'altro eliminiamo anche l'eventuale "rischio" o "tentazione" di voler finire imbattuti il campionato.

sconfitta che ci farà più bene che male, unica nota, manzu titolare, si poteva provare Kean

con l'impostazione tattica di mercoledì, lo credo anche io

Argo30 replied to Osservatore Torinese's topic in Campionato

l'unica che temo realmente è il Barca, l'Ajax vorrei evitarlo per i motivi che ho scritto in altro post.

Argo30 replied to Osservatore Torinese's topic in Campionato

l'ajax però mi dà la sensazione di squadra sbarazzina dove ormai tutto quello che viene è guadagnato, sotto questo punto di vista sono imprevedibili, vorrei evitare di incontrarli solo per questo, potessi scegliere, prenderei il Porto. Comunque, tornando alla partita di ieri sera, genialata di Allegri, ma su questo io non l'ho mai criticato, nè sulle scelte tecniche nè su quelle tattiche, la svolta, per me, è nei particolari, come quella che a 5 minuti dalla fine ha stoppato il cambio Bentancur/Pjanic perchè non voleva cambiare nulla dato che la squadra stava girando alla grande. Quella secondo me è una svolta importante nella gestione delle partite, al di la dei cambi fatti o non fatti.

Argo30 replied to Osservatore Torinese's topic in Campionato

penso che ad oggi sia l'avversario più pericoloso da affrontare, nei quarti, tutti tranne l'ajax, imho

Argo30 replied to homer75's topic in Amarcord

la risposta è nelle parole di Ronaldo a fine partita "questa è la mentalità europea"

si ho corretto, l'espulsione di pianic è avvenuta al 2' minuto del secondo tempo.

he, posso anche essere d'accordo, però alternative al gioco le devi anche trovare

si hai ragione, l'espulsione è arrivata appena iniziato il secondo tempo, resta comunque che senza pianic, si spegne la luce, e non si può prescindere da un solo giocatore

sono d'accordo su pianic, però stavamo soffendo anche prima dell'espulsione, poi chiaro che senza di lui le cose peggiorano.

a me il primo tempo è piaciuto, certo, niente di trascendentale, ma comuqnue riuscivamo a stare alti e i pericoli per noi sono nati da errori tecnici da parte dei nostri. Il secondo tempo inguardabile e non so quanto effettivamente possa pesare la condizione fisica.

sono d'accordo. Da non sottovalutare le parole di Paratici nel prepartita quando ha parlato di "apettative alte da parte della società", ha usato proprio quelle parole. Al netto delle interviste pre e post partita che lasciano il tempo che trovano, mi è sembrata una presa di posizione netta da parte della società.