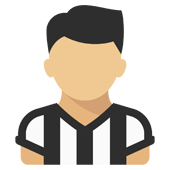 Content count

42

Joined

Last visited
Community Reputation
144
Buona
36 Followers
About Jopp

la striscia centrale, vista nel dettaglio, sembra una big babol masticata e poi allungata.... Mai vista una maglia peggiore di questa, davvero orrenda...

Jopp replied to homer75's topic in Amarcord

Buon pareggio. Ma sono preoccupato, perché questi il ritorno lo giocheranno pari pari a come hanno giocato stasera... Diciamo 60 noi, 40 loro

Dai, io c'ho provato, ma sta maglia è oggettivamente indifendibile...

Sono stato fortunato abbastanza da averli visti tutti o quasi, ma le emozioni che mi ha regalato Marcello Lippi, mai nessuno... del tipo, quando fu annunciato come nuovo C.T. della Nazionale, pensai subito "vinceremo il Mondiale". Un grandissimo uomo, prima che un grande allenatore, di un'intelligenza fuori dal comune...

Vorrei incontrare il barcellona e evitare il city... Il barca perché non voglio incontrarlo in finale; il city perché in un quarto è quella che mi fa più paura...

Jopp replied to homer75's topic in Amarcord

Che schifo sto ronaldo eh? Vecchio, bollito e triste. E poi, solo 4 gol in Champions quest'anno, mica come al Real dove di sti tempi ne aveva già fatti millemila... É SEMPLICEMENTE IL GIOCATORE PIÙ DECISIVO DELLA STORIA DI QUESTO SPORT. E ancora non riesco a credere che gioca con noi...

Jopp replied to giusardegna's topic in Amarcord

Ma io mi chiedo perché, perché a quasi 41 anni devo stare male per una partita di calcio, quando tutto di me mi dice che faremo una grandissima partita e che, come al solito, lo prenderemo in quel posto? Ma non potevo nascere appassionato di cricket?

Jopp replied to Osservatore Torinese's topic in Campionato

Io non riesco proprio a capire. Allegri ci crede sul serio. Allora, o è un gran paracoolo, oppure davvero non so...

Jopp replied to homer75's topic in Amarcord

10% di probabilità di passare. A star larghi. Spiace dirlo, ma questa competizione non fa per noi

Dio mio, leggo solo ora...non ho parole....solo tanta tristezza. Riposa in pace amico mio. Triste averti conoscito solo virtualmente...