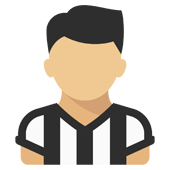 Content count

127

Joined

Last visited
Community Reputation
50
Buona
About Chewback

Rank

Esordiente


Birthday

03/28/1979
Allora giochiamo con il libero e i terzini bloccati perché la Juve dei cinque scudetti nel 1930 giocava così... Sono passati 40 anni, è cambiato il calcio, i calciatori, gli allenatori (purtroppo non tutti)

Ah, deve essere per quello che i giocatori che un valore già ce l'hanno li lascia in panca per piú di un'ora...

Scendere in campo per lo 0-0 e cercare di scoolare un risultato non è importante. È l'unica cosa che conta. Io me la ricordavo diversa, ma pare che adesso piaccia così...

Chewback replied to homer75's topic in Amarcord

Con la squadra che per sabotarlo ha smesso di giocare una volta raggiunta la matematica, passando da +8 a +1, se proprio vogliamo dirla tutta

Sono in parte d'accordo con te, ma allora spiegami il senso, per una società in passivo che deve abbassare il monte ingaggi, di pagare 36 mln (netti, quindi quasi il doppio) l'allenatore e poi risparmiare sui giocatori. Lo fai solo se sei convinto che possa fare la differenza in termini di risultati.

Uno che ha un quadriennale da 9 milioni all'anno non può avere gli stessi obiettivi per cui il suo predecessore è stato esonerato. O vince almeno una coppetta, ma lottando fino all'ultimo secondo per il bersaglio grosso, o ha fallito.

Chewback replied to homer75's topic in Amarcord

Questa con allegri l'avremmo vinta (cit.)

Chewback replied to homer75's topic in Amarcord

Senza portiere tieni gli altri lontani dalla porta. Ma per il catenacciaro è eresia..

Voto 5 perché sono un inguaribile ottimista, ma abbiamo perso 30 gol (riuscendo anche a rimetterci dei soldi!!) per guadagnarne una decina, se va bene. È evidente che la società fa all-in su quella idiozia di Nba de noartri e di arrivare tra le prime quattro se ne batte.

Ecco, finalmente una posizione sensata. Pur Fortitudino, non vedo cosa ci sia di intrigante nel fatto che la Virtus, che è alla pari di Milano come storia, tifosi e appeal, dopo aver stravinto il campionato debba comunque stare fuori, e tifo perché questo schifo non entri nel calcio.

Certo, facciamo la superlega perché le partecipanti si son riempite di debiti, solo per fare ancora più debiti pagando il doppio al Sassuolo...

Già, in che modo una competizione che fa guadagnare miliardi a tre squadre scelte a tavolino e a cui le altre non potrebbero accedere mai, guadagnando le briciole rimanenti, potrebbe falsare il campionato?

Ora dovremo imparare a giocare entrambe le partite...

"abbiamo vinto la Coppa Italia e siamo riusciti a qualificarci alla Champions eppure ci hanno cacciati". Igor, ti voglio bene, ma quello che a Roma e Napoli è un successo alla Juve è un fallimento, dovresti averlo imparato...

Mai guardato un dopopartita in vita mia, le opinioni me le faccio in diretta.