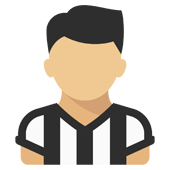 juventinofinoallamorte2
Utenti
Content count

218

Joined

Last visited

Days Won

3
Community Reputation
1,772
Guru
15 Followers
About juventinofinoallamorte2

Recent Profile Visitors
The recent visitors block is disabled and is not being shown to other users.
Ma infatti Pellegrini non sarà mai in lista Champions, è impossibile con tutte queste mancate cessioni

juventinofinoallamorte2 replied to Juventinello's topic in Juventus forum

Ciao ragazzi sapete in california e a Las Vegas dove vedere la Juve?

Salve A conferma degli incredibili progressi della nostra società volevo far notare come ben 8 dei 10 acquisti più costosi della nostra storia militano in questo momento in squadra con noi. Sono CR7 higuain Buffon costa bernardeschi pjanic cancelo e dybala. Gli altri 2 sono Lillian thuram e il nostro vicepresidente. Cosa ne pensate? Prezzi drogati o ascesa della nostra società verso il picco più alto di sempre?

juventinofinoallamorte2 replied to Vivachile's topic in Juventus forum

Ma quanti sono gli abbonamenti disponibili? Intendo quelli al di fuori di quelli che rinnovano? Ho possibilità di farlo da naive?

Coso Barzagli Bonucci Chiellini Cancelo khedira pjanic Sandro Dybala tra le linee Ronaldo manzo. Sono sicuro che allegri alla fine giocherà così, come fece nel rush finale pre cardiff. Poi ovvio che giocheranno tutti, faceva giocare Lemina e sturaro, figuriamoci se non usa costa cuadrado Berna can e matuidi Dybala costa Ronaldo no? E comunque anche Ronaldo costa dybala non hai pensato

juventinofinoallamorte2 replied to Deborah J's topic in Juventus forum

accettasse una decurtazione dell' ingaggio allora... non facciamo beneficienza, è fuori dal progetto tecnico pagare l' ultimo dei cc cinque milioni l' anno

juventinofinoallamorte2 replied to Snow Syfer's topic in Juventus forum

Pirlo Vidal Pogba Tevez Pogba Higuain Chiellini

Costa fu preso un po' all' improvviso, fu un' accellerata. Che Bernardeschi stamattina facesse le visite si sa da 4 giorni... Ben venga l' entusiasmo, però piano perché è molto acerbo e non partirà sicuramente titolare. Dybala è un' altra pasta e l' esterno nel 4231 non è detto che sappia farlo. Io credo in lui, daje

juventinofinoallamorte2 replied to Juventinello's topic in Juventus forum

Qualcuno conosce un posto per vederla a Formentera?

anno prossimo vorrei vedere una squadra così per sfizio. Leali Caceres Bonucci rugani asamoah Vidal sturaro pogba Berardi morata coman Età media 22 anni

Comunque se l' anno prossimo ci qualifichiamo saremo comunque in seconda. Se però quest anno e l' anno prossimo facciamo una grande Champions potremmo arrivare in prima fascia tra qualche anno.

Sinceramente io non mi farei angosciare più di tanto sulla questione pogba. È chiaro che un rinnovo ci metterebbe nella posizione di forza quando lo dovremmo vendere e quindi è un' ottima notizia, ma francamente pure quando andra via non sarà un dramma. Averceli altri di problemi da 80 milioni...

Qualcuno mi può spiegare una cosa?!? Perché quest anno i prescritti, senza coppe, hanno fatto più punti del nostro anno senza coppe con Conte?!? Noi abbiamo fatto il primo posto e loro il quinto, non è giusto!

Sarebbe fantastico se tipo l' everton scavalca l' arsenal e il porto non passa i preliminari... Potremmo stare in prima fascia...