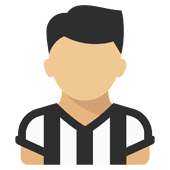 canescioltocurvasud
Utenti
Content count

2,360

Joined

Last visited

Days Won

7
Community Reputation
1,948
Guru
About canescioltocurvasud

Informazioni
Squadra
Sesso
Provenienza
canescioltocurvasud replied to Third stone from the sun's topic in Juventus forum

Auguri al mitico Alessandro. Indimenticabile il suo gol a Juve Fiorentina 3 a 2

Da qui a giugno leggeremo di tutto di più sui candidati alla panchina, ma temo seriamente che in società pensino a Conte.

Comunque penso che la vittoria contro l'inter ci deve dare entusiasmo ma non illuderci: per me l'inter è una squadraccia con un allenatore passivo e in confusione. I test probanti sono altri, Atalanta e Napoli su tutte, che hanno un altro passo ed in questo momento dimosrano di essere molto più forti dell'inter.

Manca il passaggio più importante in questa intervista: "Nonostante l'ennesimo aiuto del Var che ha provato a farci rientrare in partita, i bianconeri sono stati più forti. Hanno battuto sia noi che la quaterna arbitrale".

eh, bei tempi davvero ... e poi ieri cercavo il biglietto di Nantes ma non me lo ritrovo.

A me sembra il contrario.

Il paragone con Nedved mi sembra molto azzardato.

canescioltocurvasud replied to BaroneBirra87's topic in Juventus forum

Manca l'opzione "fantascienza": tutte e due.

Per me Bremer e Kostic ad oggi sono gli acquisti indovinati. Mi sembra che il serbo la differenza la stia facendo.

Barella 5 gol. Io ho sempre rimpianto che lo avesse preso l'inter, poi Kostic mi piace assai.

Senza andare a cercare le statistiche, credo che Pepe segnasse più di Kostic.