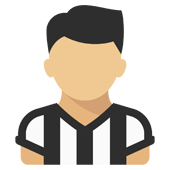 Content count

400

Joined

Last visited
Community Reputation
499
Buona
About Juve4everSarà

Quale prezzo? Chi te l'ha detto che hanno lo stesso prezzo? Il costo dell'ingaggio? Vabbè dai, il calcio reale è un'altra cosa. Buon proseguimento.

xxx. Vale esattamente per quello che è, un grandissimo giocatore.

Ora costa il doppio ma se vuoi fare un salto di qualità a centrocampo devi prenderlo perchè attualmente è un top assoluto.

Adesso ti diamo un bel premio per la grande scoperta. Ma ora la domande è: e quindi? Cioè non capisco il ragionamento. Il post è su SMS e tu te ne esci con una simile ovvietà. Ma cosa significa? Che se uno non può prendere Messi non compra altri attaccanti? Che se uno non può prendere Pogba non compra altri centrocampisti? Fammi capire. E soprattutto, cosa c'entra Luis Alberto che copre tutt'altro ruolo?

Non giocava da un anno. Ancora la strada del pieno recupero, anche mentale, è lunga.

Giocatore al quale tutti i nostri attuali centrocampisti (a parte il Khedira dei tempi migliori che era comunque di livello inferiore) potrebbero soltanto allacciare le scarpe. Pjanic incluso.

De Ligt, Demiral, Higuain: 7 Danilo, Buffon: 5 Rabiot, Ramsey: sotto 0

Juve4everSarà replied to homer75's topic in Amarcord

Lo scorso anno avremmo vinto la champions con il Pipa al posto di Mandzukic.

Juve4everSarà replied to Giannij Stinson's topic in Campionato

Szczesny Danilo-De Ligt-Bonucci-A.Sandro Ramsey-Pjanic-Matuidi D.Costa-CR7 Higuain Una signora formazione.

Centrocampo ridicolo (magari ci fa fare la svolta Ramsey ma ne dubito), attacco infarcito di mezze figure (Dybala - Bernardeschi) e giocatori da 10 partite l'anno (D.C.). Un solo terzino sinistro e a destra De Sciglio, che già la dice lunga, e Danilo che è ancora più scarso di De Sciglio. Chiellini lo rivedremo nel 2020 se tutto va bene. La champions è utopia pura allo stato attuale. Lo scudetto invece, con praticamente due rose, e con Sarri che si porta il * dietro da 6 anni con il fatturato etc, credo sia obbligatorio.

No, per questioni di opportunità.

Can doveva andarsene per fare plusvalenza. Non può non piacere a Sarri. Non trovando posto per Khedira dovevano venderne un altro per sfoltire la rosa. Il problema di E.Can è che non ha voltuto fare le valige. Questa è l'unica ragione della rottura. Pensare ad un fattore tecnico o tattico è follia. L'anno scorso è l'unico che è sempre stato decente in tutte le partite che ha giocato. L'unico tuttocampista con piedi discreti della rosa.

Juve4everSarà replied to homer75's topic in Amarcord

Con una difesa improvvisata all'ultimo minuto non poteva andare meglio. Lasciamo lavorare il mister.

Con lui in rosa l'anno scorso avremmo vinto tutto. Di un'altra categoria rispetto al croato come centravanti di manovra e come finalizzatore.