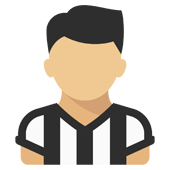 Content count

375

Joined

Last visited
Community Reputation
796
Eccellente
About giuliorso

Lo sogno in una formazione titolare con quei due ragazzacci affamati di gol a dispensare caramelle a go go come stasera, e poi di tanto in tanto farci strabuzzare gli occhi con una sua rete 😍 ci arriveremo

130 euro in saccoccia. Grazie merdoni ❤️❤️

giuliorso replied to homer75's topic in Amarcord

Mio fratello se l'è giocato marcatore, 10 euro 290 in saccoccia -_-

giuliorso replied to homer75's topic in Amarcord

che goduria infinita...ancora mi fa male la gola. Raga abbiamo fatto 30 tiri, non sarà stata la miglior partita ma neanche la peggiore, soprattutto nel primo tempo e la metà del secondo abbiamo giocato bene. Godetevi sta ca**o di vittoria SEEEEEEEEH

giuliorso replied to homer75's topic in Amarcord

Non capisco le critiche a de ligt... Ha fatto una buona partita. Fosse per la metà di voi Nedved andava sbolognato dopo due mesi. E qui parliamo di un 19enne... Bah.

Secondo me più il tempo passa più l'utente medio di questo forum capisce meno di pallone. Anche oggi ci starebbe benissimo in rosa, infatti in bundes sta giocando molto bene.

mesà che nn hai visto bene

dai raga è un troll..gli rispondete pure

😱 Giochiamo da schifo? 😂 Dai siete troll.

Gran bella partita. Sofferta, difficile, contro una squadra sicuramente in forma..ma è la champions..queste sono le prove di forza che ci servono. Un cancelo ASSURDO, non credo ci sia altro da aggiungere. Dybala non nella sua migliore serata, ma comunque tesse bene qualche ripartenza e fa il suo. Cristiano fenomeno. Lode al capitano.

giuliorso replied to homer75's topic in Amarcord

Mario che scazzava con tutti mi stava dando il nervoso. Con can si sono battibeccati platealmente per un passaggio sbagliato. Spero che a Kean si dia sempre più minutaggio e sia destinato a sostituire il croato il prossimo anno.

Dispiace tantissimo... ancora non me ne capacito. E lo stesso vale per tanti juventini incontrati stasera.. Beppe era una parte importantissima di questa Juve...mai mi sarei aspettato una cosa del genere. Spero ci siano spiegazioni adeguate e che gli si tributi il giusto riconoscimento.

giuliorso replied to homer75's topic in Amarcord

3/4 del forum non capisce un emerito caspio di calcio.. e non e' dovuto al fatto che molti non hanno mai messo piede in un campo di gioco, e' solo che internet ha dato parola anche ai più beceri. Ho letto cose assurde. Detto cio', ottima partita per come si era messa. Se non segni subito in questi casi rischi davvero di non sbloccarla piu'... sopra le righe Berna e Can, gli altri comunque tutti bene. Sandro non riesce più ad essere quello di due anni fa, credo che ci dovremo fare l'abitudine. Dybala bene nel far girare il pallone, ha provato a cercarsi il tiro un paio di volte ma gli spazi erano troppo intasati con 10 giocatori avversari davanti la porta. avanti con la prossima, poi testa al Napoli.